Marketing and sales automation is vital to the success of businesses. No matter how small or large your company is, a marketing and sales automation system helps all team members successfully and efficiently bring in leads while guiding them through the sales journey. With tools like HubSpot CRM, you can manage all efforts within one tool to gain the outcome you want for your company.
Before investing in dedicated customer relationship management tools (CRM), PA used multiple marketing and sales tools to perform tasks but faced functionality and performance changes. In late 2021, we switched from one CRM to HubSpot, ranked #1 in Global Software Companies 2023 by G2 and #1 by Gartner Peer Insights in 2022. This tool supports our efforts to connect to our target audiences and streamline our sales and marketing initiatives.
HubSpot is a customer relationship management tool that helps companies manage and improve customer interactions. The tool offers specific Hubs, including Marketing, Sales, Service, Operations, and CMS, that can be purchased separately or together to improve overall customer experience, optimize business operations, and increase sales. Uses for a CRM system can vary, but key features include automating tasks, storing and managing data, and lead management — all to save you time and money.
We'll share what HubSpot is and why it's beneficial for you to consider it for your company.
HubSpot CRM + Inbound Marketing = Best Choice for Your Company
You may have shopped around, looked at a few CRM tools, and asked, "What sets HubSpot apart from the pack?" HubSpot differs from others in its focus on inbound marketing methodology.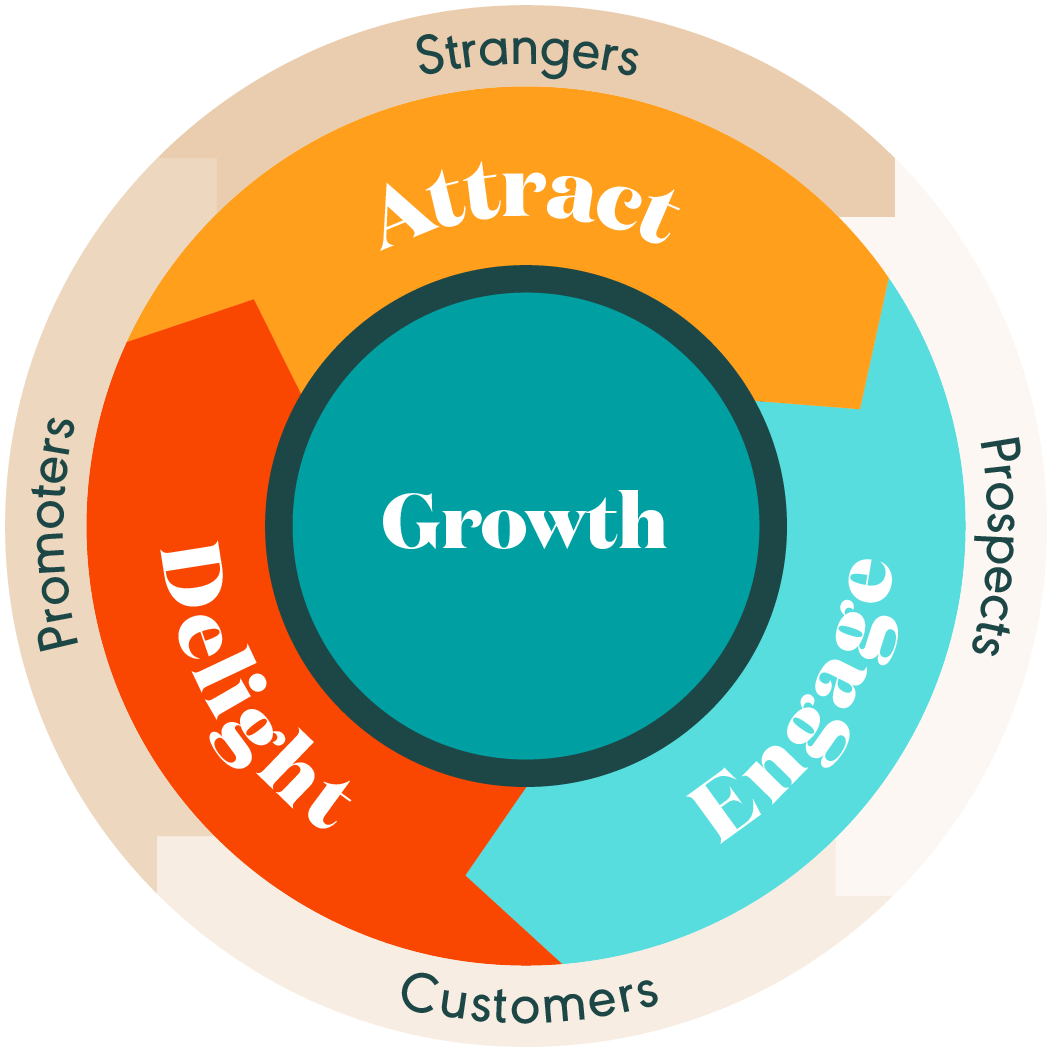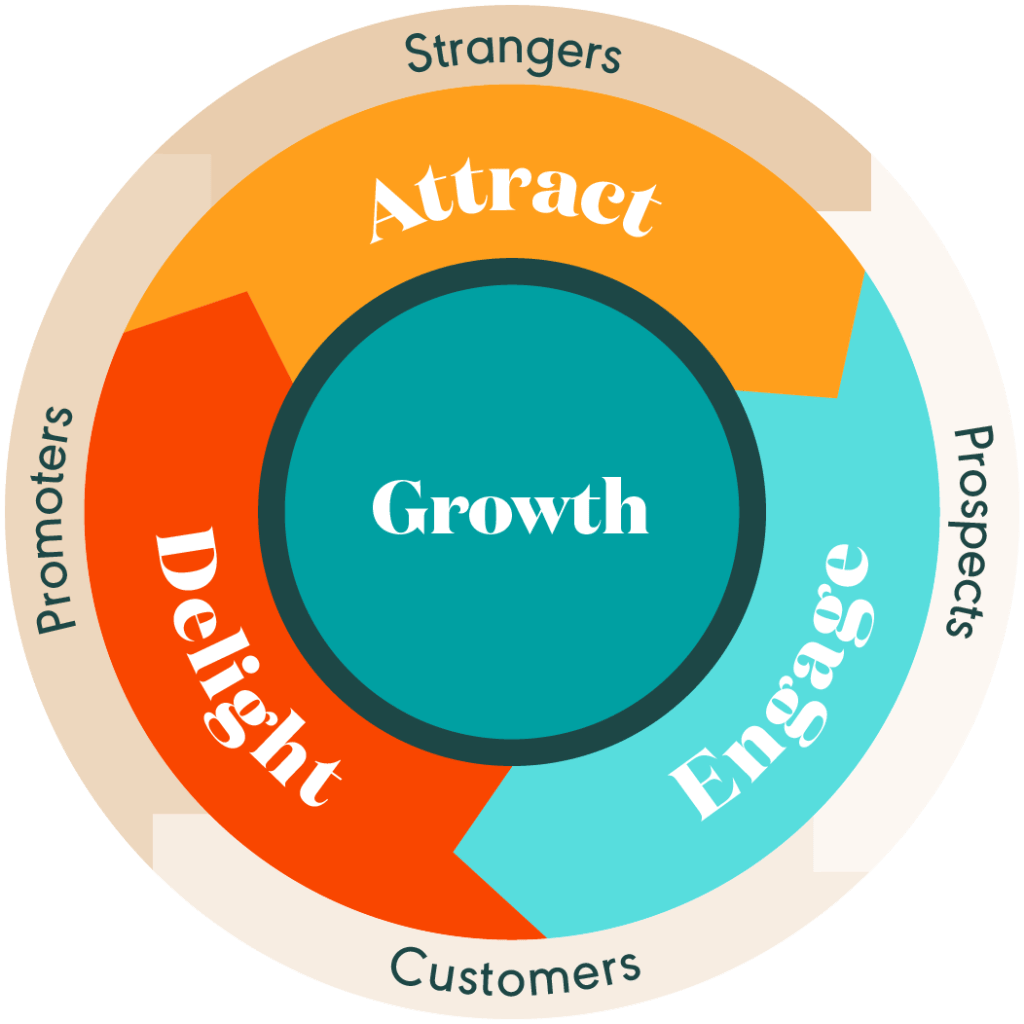 HubSpot's inbound marketing methodology.
Inbound marketing is a customer-centric approach that uses various techniques to attract and engage potential customers. It focuses on creating content and experiences tailored to the specific needs and interests of the customer rather than solely relying on outbound marketing tactics such as cold calling and direct mail.
This approach uses search engine optimization (SEO), content marketing, social media marketing, email marketing, and other digital marketing strategies to drive organic traffic to a website. It also involves creating engaging and educational content that provides value to customers, such as blog posts, e-books, webinars, podcasts, and videos. This methodology creates relationships with potential customers and establishes trust, encouraging them to become paying customers. Dollar for dollar, it's the most cost-effective marketing channel for any company, from small to large enterprises.
HubSpot's CRM supports inbound marketing methodology by providing tools and features that can be applied in three ways:
Attract: drawing in the right people with valuable content and conversations that establish you as a trusted advisor with whom they want to engage.

Engage: presenting insights and solutions that align with their pain points and goals, so they are more likely to buy from you.

Delight: providing help and support to empower your customers to find success with their purchase.
For example, companies can implement lead scoring and tracking, which helps identify and prioritize your most promising leads. These strategies help determine where to place more effort into one than another.
Learn HubSpot's Features
This tool is undoubtedly powerful, with 150,000+ customers in over 120 countries growing their businesses with HubSpot. The intuitive, user-friendly interface with helpful academy courses lets anyone quickly learn to use HubSpot. Companies of all sizes and levels of technical expertise can understand and customize the CRM tool to meet their needs.
Here are some of the top benefits of using HubSpot (and almost the main reasons why we love it):
Sales Enablement
HubSpot's sales enablement tools close deals faster by providing sales reps with the information they need to engage with prospects. Sales teams can also use tools to automate and streamline their sales processes, including lead scoring, email tracking, and appointment scheduling.
Customer Service
HubSpot's customer service tools provide exceptional customer service by fine tuning your customer support processes and providing a tool for your customers to communicate with your team. This includes a help desk, knowledge base, and live chat functionality.
Marketing Automation
With HubSpot, companies can automate their marketing campaigns and workflows, including email marketing, social media posting, and content marketing. This helps to save time and resources while improving the efficiency and effectiveness of marketing efforts.
Customers with Sales and Marketing Hub see a 74% increase in deal close rate after 12 months.

Source: HubSpot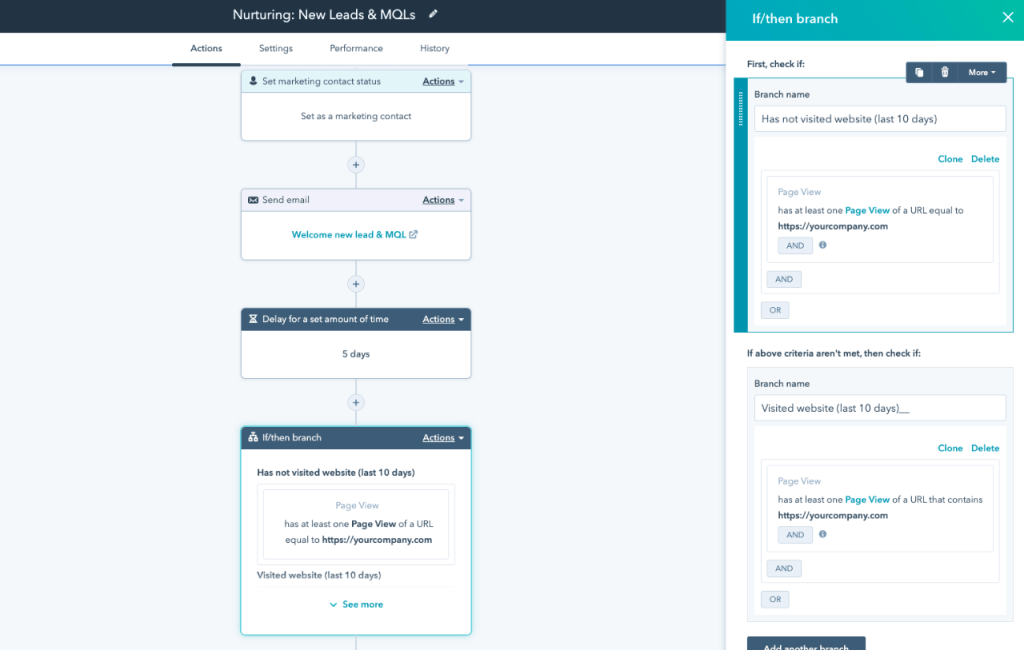 Automate some of your manual tasks with workflows.
CRM
HubSpot's CRM manages and personalizes customer data and interactions while providing insights into your sales pipeline and customer engagement. Companies can easily manage their sales and marketing efforts from one central location, identifying opportunities for upselling and cross-selling.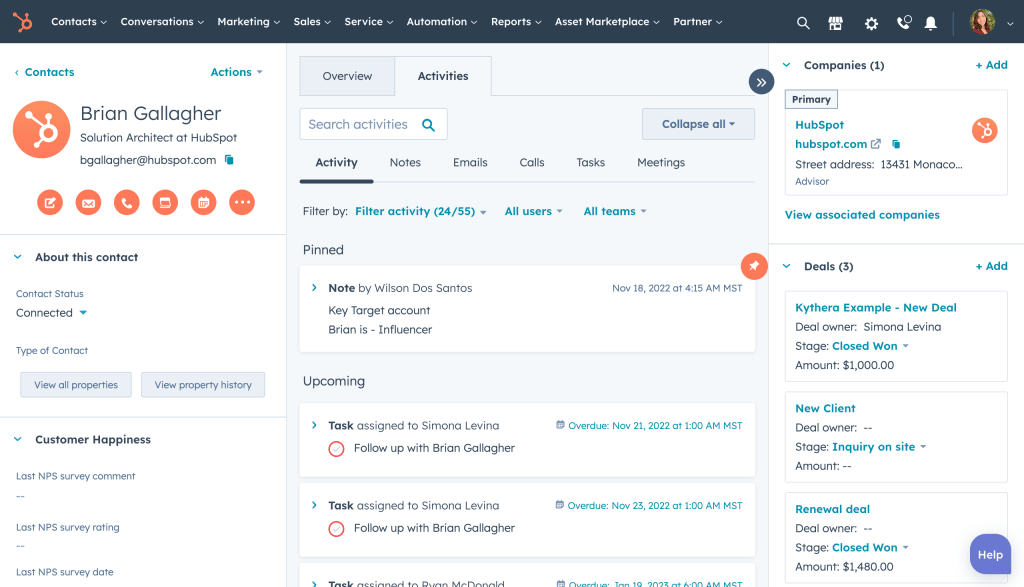 Each contact record displays the information your marketing and sales teams need readily available.
It can automatically log and track interactions with a customer, including phone calls, emails, and meetings, and provide a complete history of the customer's interactions. This information is easily accessible and editable by your team to log notes or other essential information.
Reporting & Analytics
HubSpot's reporting and analytics tools help you measure your marketing, sales, and customer service performance and make data-driven decisions. This includes website analytics, email marketing analytics, and sales analytics. Most CRM data tools are built for analysts, leaving only select team members able to share critical data.
See live data within the HubSpot Marketing Hub under SEO.
This CRM has built-in analytic tools to track key metrics, such as lead conversion rates, sales pipeline engagement, and more. No data analysts are required! Empower necessary team players to identify areas of improvement, adjust sales and marketing strategies, and ultimately drive more revenue. 
Integrations
Say goodbye to 50+ tabs open on your search browser! HubSpot integrates many third-party tools, such as Salesforce and WordPress. These integrations easily share data between different systems, gain a complete view of customers, and improve their operations.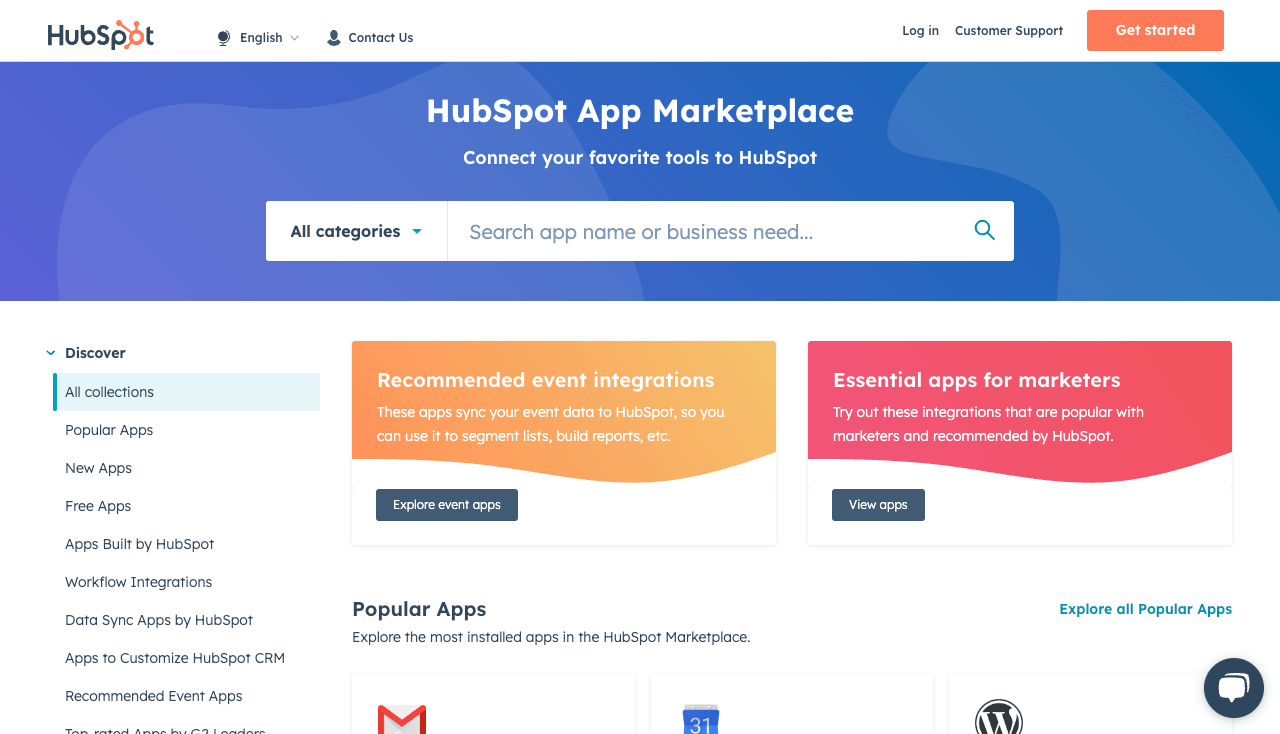 Explore the HubSpot App Marketplace, home to 1,000+ integrations.
This makes it easier for companies to connect their marketing and sales efforts with other tools they may be using. With constantly updated data feeds between all tools, your team is connected anytime and anywhere without manual input or delay.
Ready to Start Your Journey with Marketing Automation?
HubSpot proves not only are they selling for success, but they are empowering their customers for success. As a certified HubSpot Solutions Partner, we have the knowledge and expertise to help you set up, configure, and optimize your HubSpot account to meet your specific business needs and long-term success. Our certified inbound marketing specialists develop and execute successful inbound marketing strategies to attract, engage, and delight customers.
Join the HubSpot ecosystem today with PA! Contact us to schedule a free Discovery call — see how we can fast-track your lead-generating goals with HubSpot.